My 1st memory is when I was 5 years old. I looked in the mirror for the first time. It gave me purpose; in the back of my mind. I then realized I had the ability to make anyone laugh. The pretentious, the spiteful & the strange … it was NEVER a challenge.
Kindergarten, junior high, high school, college — I was the class clown. At home & family events, I'm a court jester. I do not enjoy the reputation nor the popularity; only the responsibility. It is the idea of sharing; that all kinds of people can laugh just looking at me – without me speaking.
I didn't know what direction I was going. I was good at everything; I loved to do everything. I completed 4 levels of comedy writing & improvisation @ 2nd City. The less fear you have, the more chance you have for success. Reverse psychology.
Stand-up comedy is blatantly competitive & overwhelming. It must remain foreign to you or it will stun you. On December 14th, 2010, was my 1st performance, wearing a fake mole to impersonate Robert DeNiro & President Obama. Since then, I completed a comedy course at the Chicago Center for the Performing Arts with Chicago icon, Dave Odd. Upon graduation, we performed a show-case together.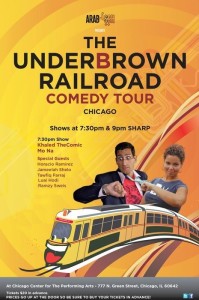 In 5 months, I've performed 77 times@ 47 locations: O'Briens, Panini Garden, Shamrocks, Aces, Let Them Eat Chocolate, Dan D. Jack's, Sullivan's, Tinley Park Center of Arts, Cigars & Stripes, 7's Cabaret, Rockford Library, Sinbad Hookah, Ambrosia Hookah, Arabia Hookah, The Edge, Chicago Center of Arts, Mahoney, Cool River, Riddles, The Joynt, Metro, Ashbary Coffee House, Lydia Healthcare, Hollywood Salvation Army, Double Tree Hotel, Northwood Inn, Kaffein, Coaches, America's Bar, Front Street Cantina, Smokey Barque, Comedy Shrine, Donny's Skybox, Echoes, Trip, Farm Stable, Rubi Agave, Drunken Donut, Skype, Chris Brake Show, Fann Wa Chai, Santa Monica Pier, Rob & Slim Show, Fox Studio & Nashville House.
---
عندما كنت في منطقة الشرق الأوسط، وأنا أذيع في جميع أنحاء البلاد من الأردن على محطة إذاعية. لم تفعل سوى القليل وأنا أعلم أبناء عمي الذي كان يعمل في محطة إذاعية، كانوا يلعبون مزحة على لي. هناك مزحة مرتين في الشهر. I تم اختياره ليكون على شاشة التلفزيون.